My Favourite Thing to Capture in a Session
When I get to work with parents, a family or siblings to capture images of them, the first and my favourite thing to look for is their connection. It is connection that not only makes an image stand out, but it is also is the very substance of our lives. Without connection, we are left hungry and wanting, but with connection, we are left satisfied and fulfilled.
There is this look that comes in the eyes of a husband when he sees his wife; it as if he has never loved anyone as much as this. There is this sneaky look that comes on the face of a little brother as he tackles his sister to the ground. There is this sweet adoration that is seen in the presence of a mom with her newborn. There is that wonder-eyed and deep love spoken out of the lungs of a babe. There is nothing like watching the connection between a family unfold.
And the connection is different from each one, it is unique to each family and to each bond. Your connection won't look like mine and that's what makes them beautiful.
Because in our families are deep seats of history and conversation and memories and questions. There are seasons that have been walked through, but most of all, there is a love that has endured, a love that still stands tall. It is like you can almost just listen in and lean into it. It is an unfolding of a story of those who have felt the storms of life and haven't let go of one another.
Isn't that beautiful? Isn't that something deserving of being captured?
Connection; it is the very breath that beats in each photo session and each frame.
About This Baby & Family Photo Session
This is Gary, Leslie and their baby boy, Torin. He's grown so much since his newborn session.
You'd never know he had a rough morning before this, missed his nap time and was awoken from a short one. Being in the studio is fun! It's a new, clean environment with music and toys, and of course, happy parents to play with too!
Torin was so much fun to photograph. I even took a little selfie with him at the end! Check it out on Instagram!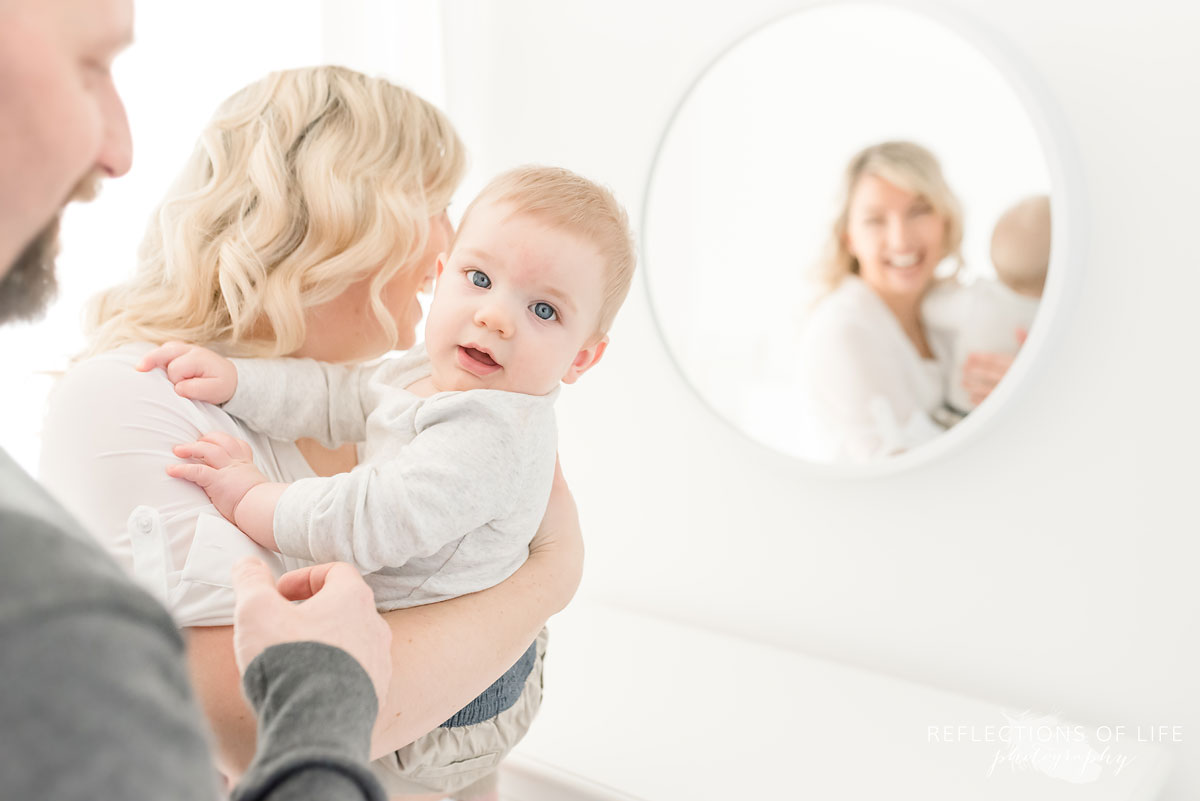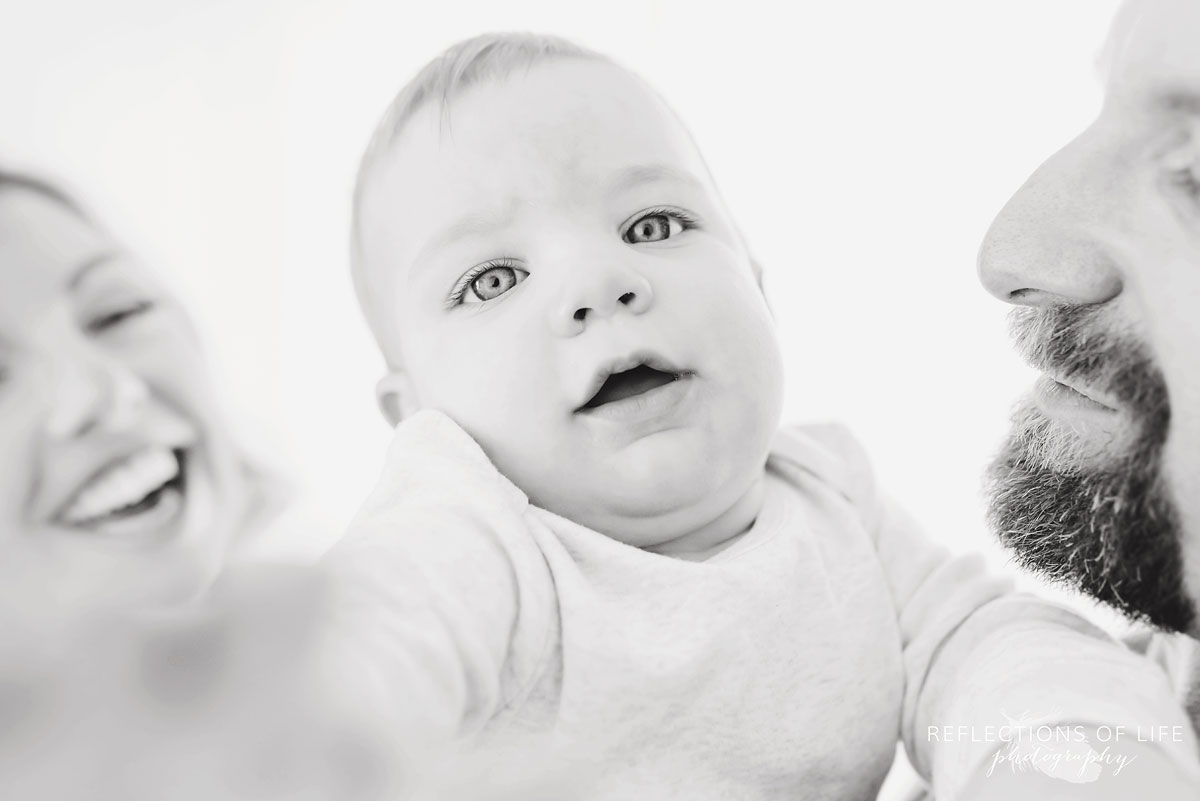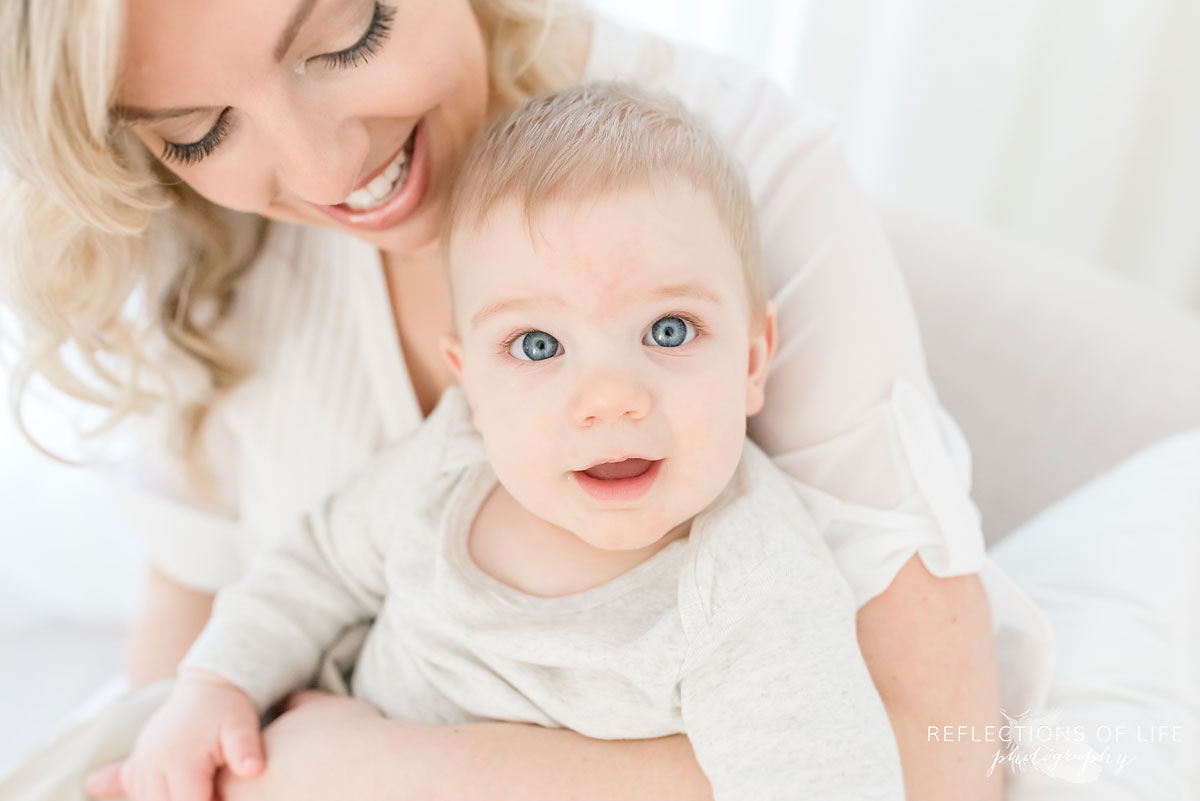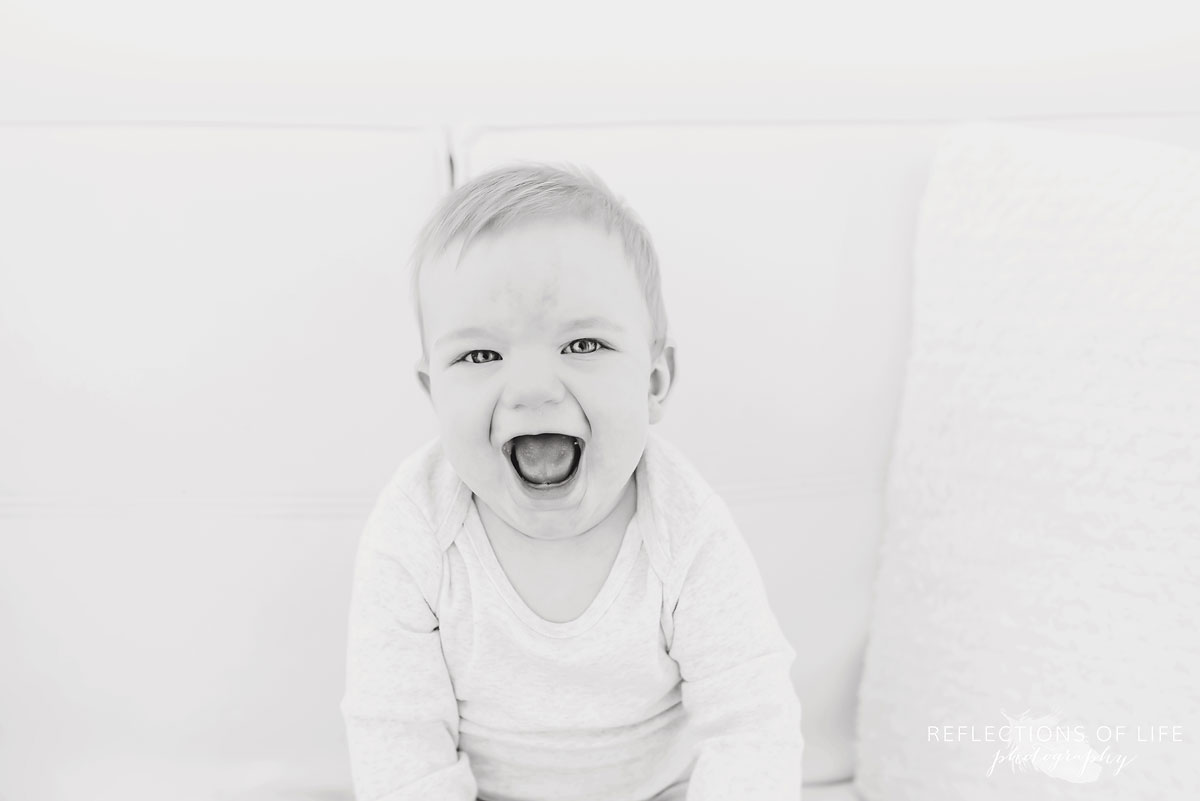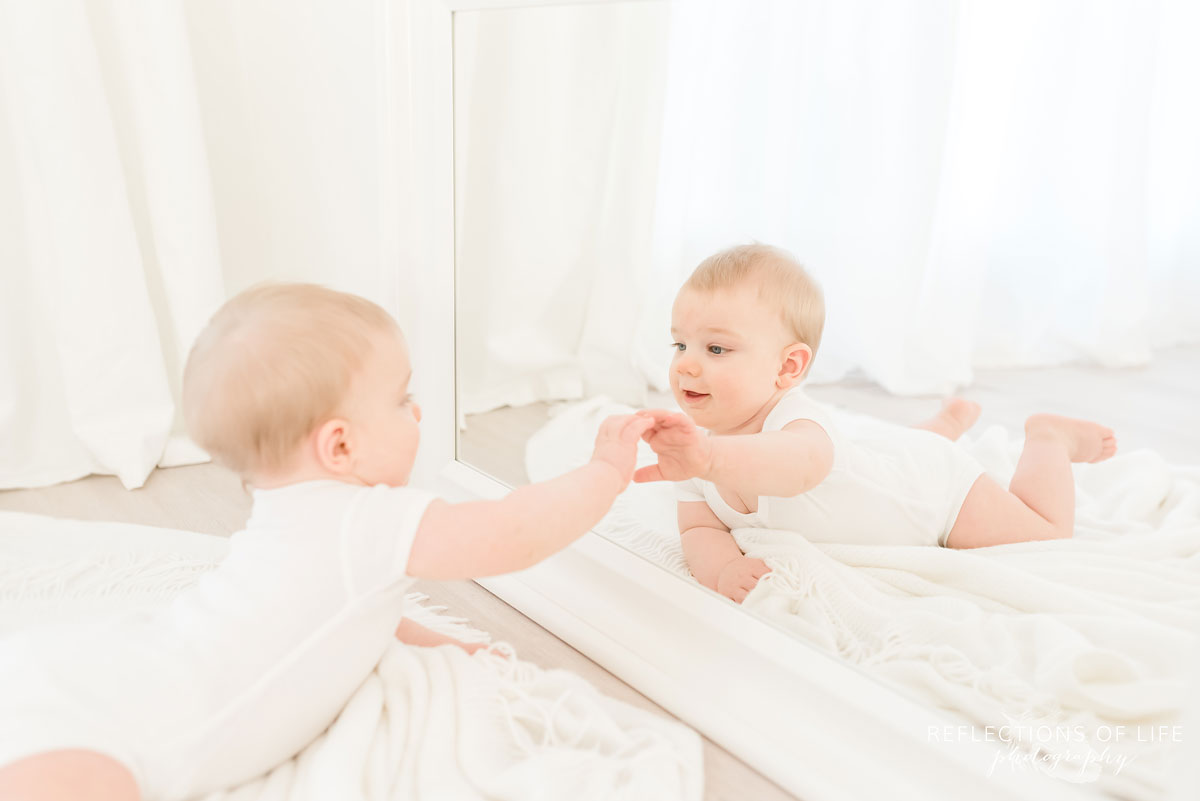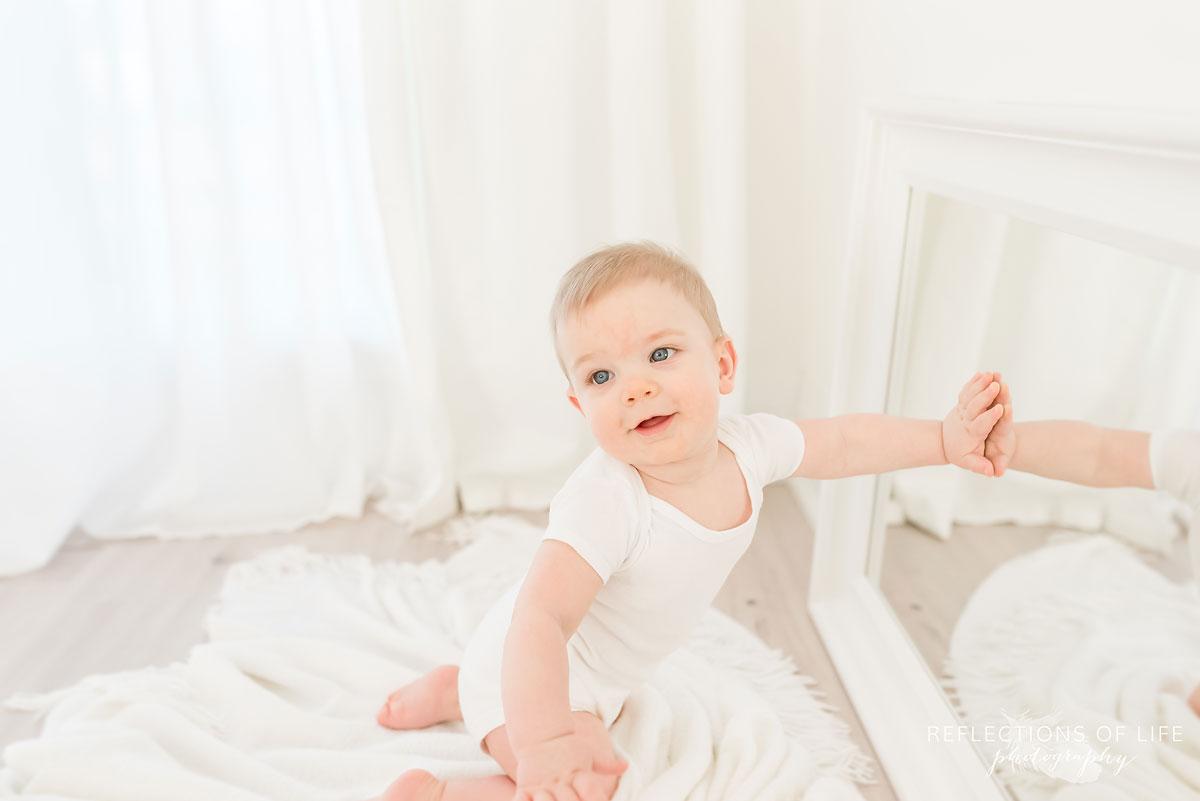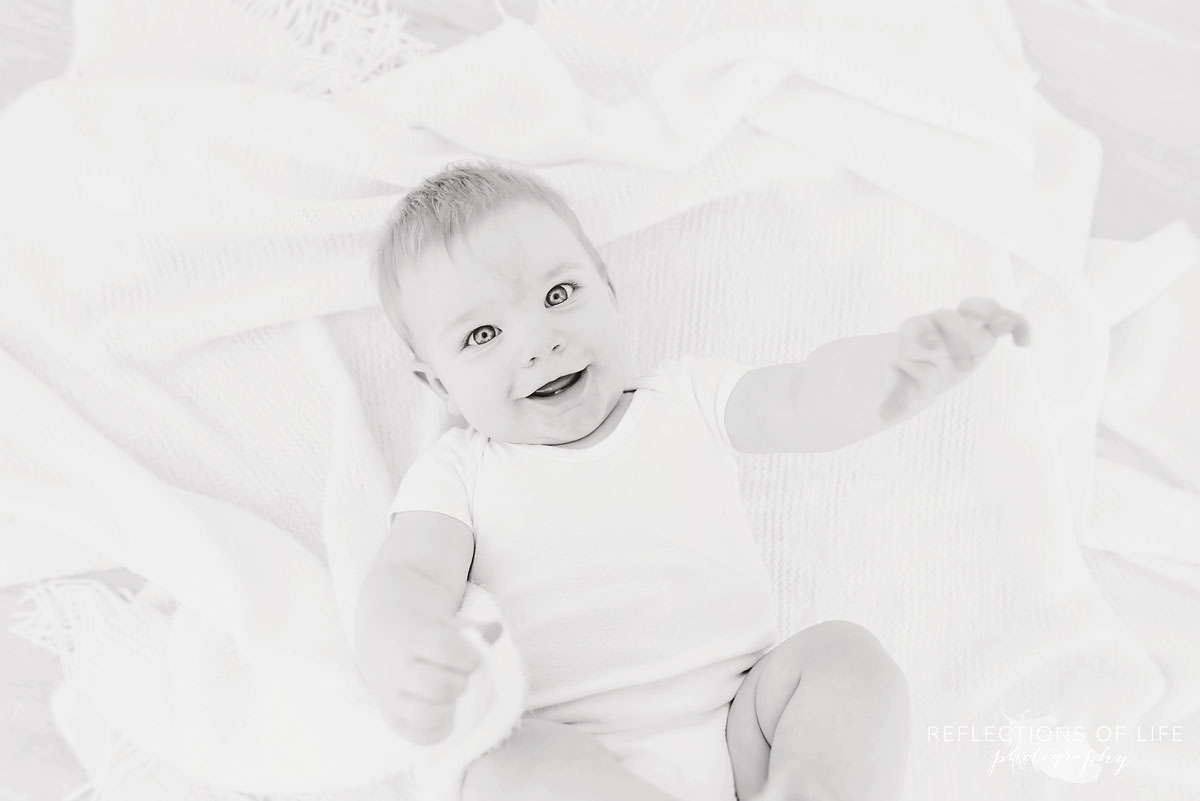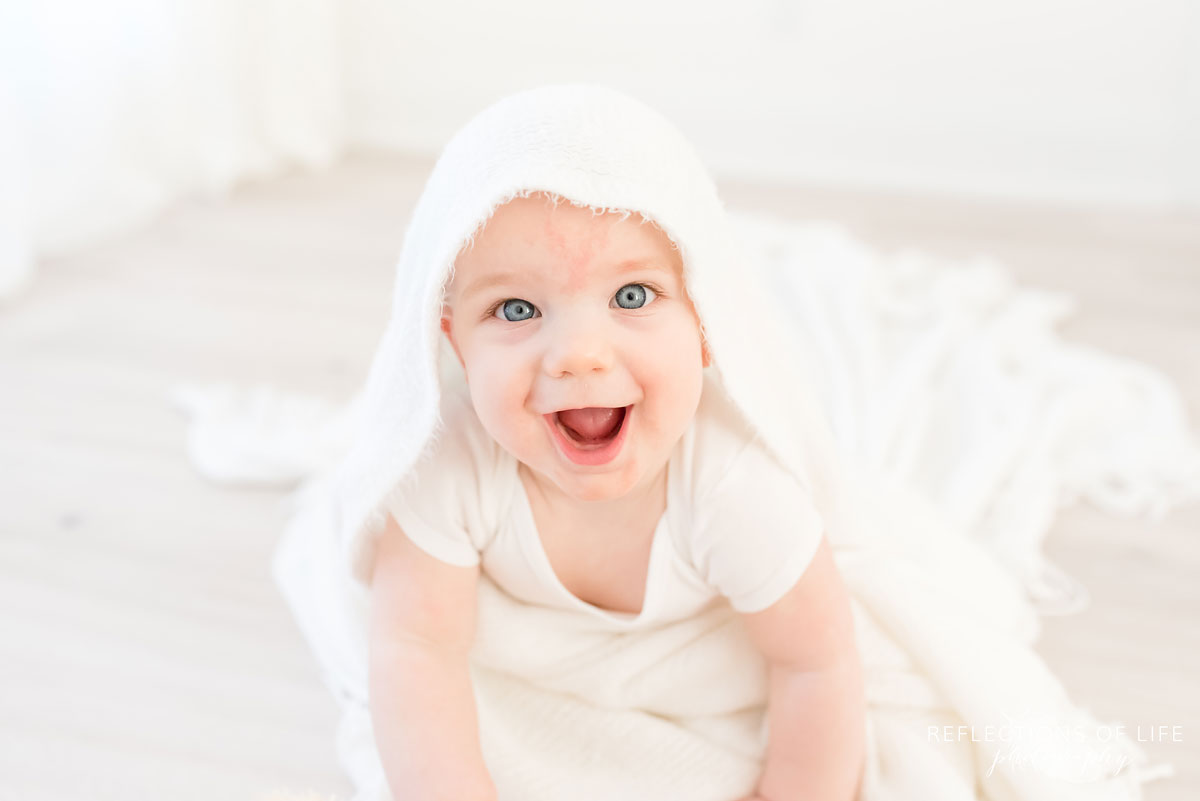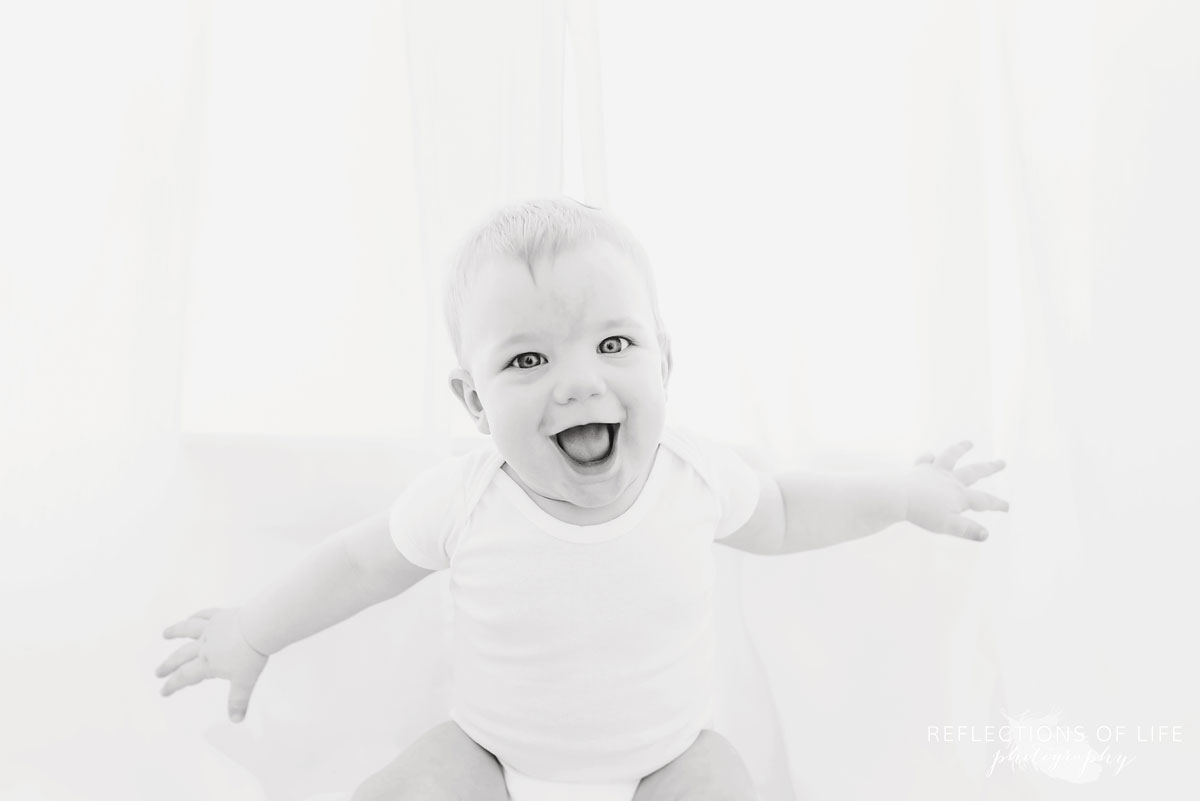 Their Baby & Family Album Design
Leslie's Testimonial
"We just did our second photo session with Karen. She did our newborn session and we just did a follow-up at 7 months.
She is so lovely, enthusiastic, and has a wonderful presence during the shoot. My husband and I both hate having our photos taken (we are not picture people, even on vacation, etc!) But she made the experience relaxing and enjoyable. It felt very natural, and her studio is so inviting!
We also have a very energetic 7 month old who is crawling all over and trying to walk. We warned Karen that she would have her work cut out for her in capturing him sitting still, but she is indeed a baby whisperer! Just like in the newborn shoot where she was able to calm and comfort our son (and get so many great shots!) she engaged our little guy so well that he was giggling and laughing with her for most of the session!
She is also very easy to get a hold of; the morning of the shoot I called her in a mom-panic because my son wasn't going down for his normal nap. She calmed me down and reassured me that we would still make it work, and even managed to change the timing day-of so that we could still come after the little guy got some zzz's!
She managed to capture the wonderful personalities and dynamics of our family and turn them into photos that are gorgeous keepsakes for us! I definitely recommend her services!" - Leslie Witton
Hi there, I'm Karen Byker from Grimsby, Ontario, Canada. I'm obsessed with newborn baby yawns, giggling kids and fancy flavoured tea.
I'm a mother of four that understands the overwhelm of the every day, but I've learned how to embrace and enjoy the grace of it. I believe we should be able to enjoy this life we chose.
I've been a professional photographer since the year 2005. I've helped a lot of mamas to slow down, pause and use photography as a reminder to take a breath.
I would just love to talk with you about documenting the beauty through your chaos. Let's chat!