Sometimes I Wonder
Sometimes I wonder, when you look at me what you see?
And when you close your eyes, what it is that you dream about? I wonder what it is that you're seeing and what is making you smile as you sleep. I wonder about those things that have you bothered and all those things that pull you out of your slumber. Baby, I wonder what it is that you dream about.
Sometimes I wonder if maybe God tells you stories. I wonder if maybe He tells you about why you were made or how much you are loved. Or maybe even as I sleep, He still sings over you, hushing softly, rocking you.
Sometimes I wonder what you feel in your heart. Do you feel me holding you, loving in abandon? Do you feel how celebrated you are from the top of your head to the bottom of your feet, inside out? Do you feel the joy of being a pure and precious gift to so many?
To me, you are a mystery. Baby, you're a beautiful mystery. And watching you come alive and awake and unfold is the most perfect adventure. Knowing you is the best treasure.
About This Newborn & Family Photo Session
This is Holden. he's a brand new addition to Stephanie and Eric's family of three. Declan, their 2.5 year old boy was so excited to show me his little brother and listened super well for the entire session. He even photographed Holden himself, with our little wooden camera toy.
Stephanie mostly wanted to focus on Holden during this shoot, but also achieve great shots of him and Declan together as well as their family as a whole.
They loved their photos, and purchased the most beautiful album for their new baby as well as some wall art and birth announcements! You'll find the album featured at the bottom of this blog post.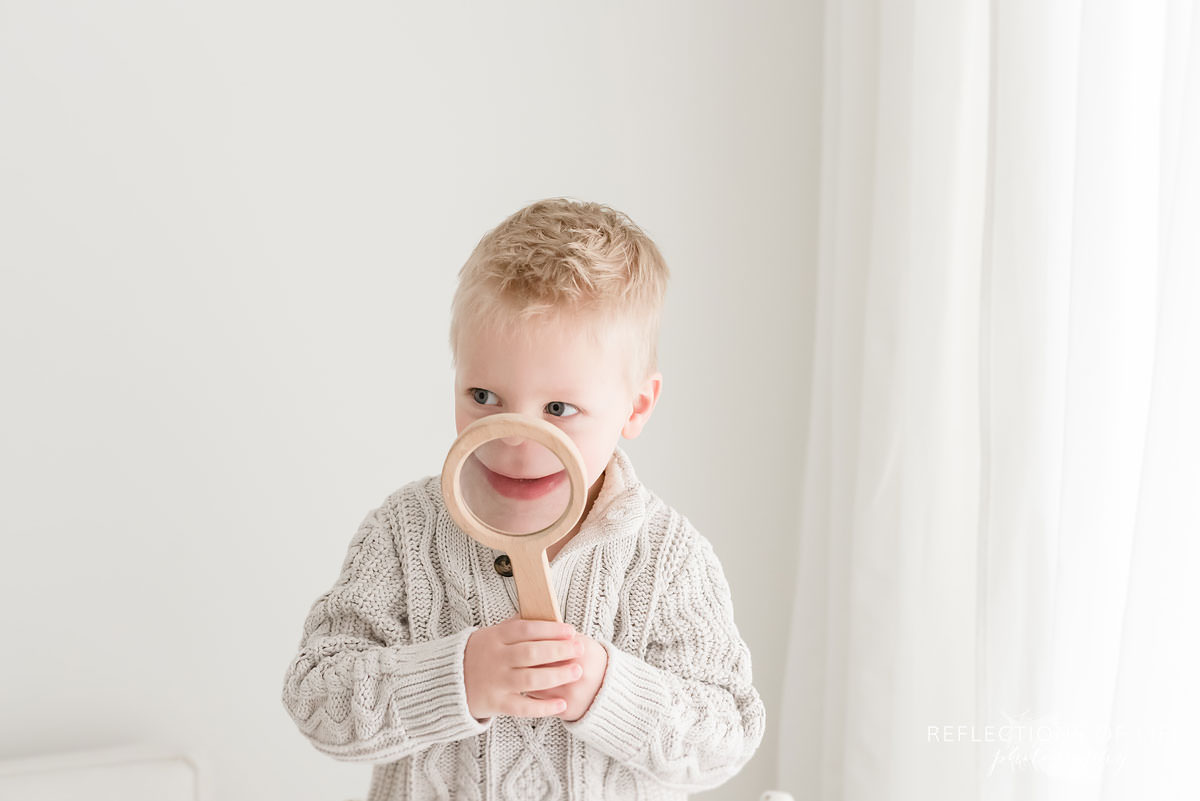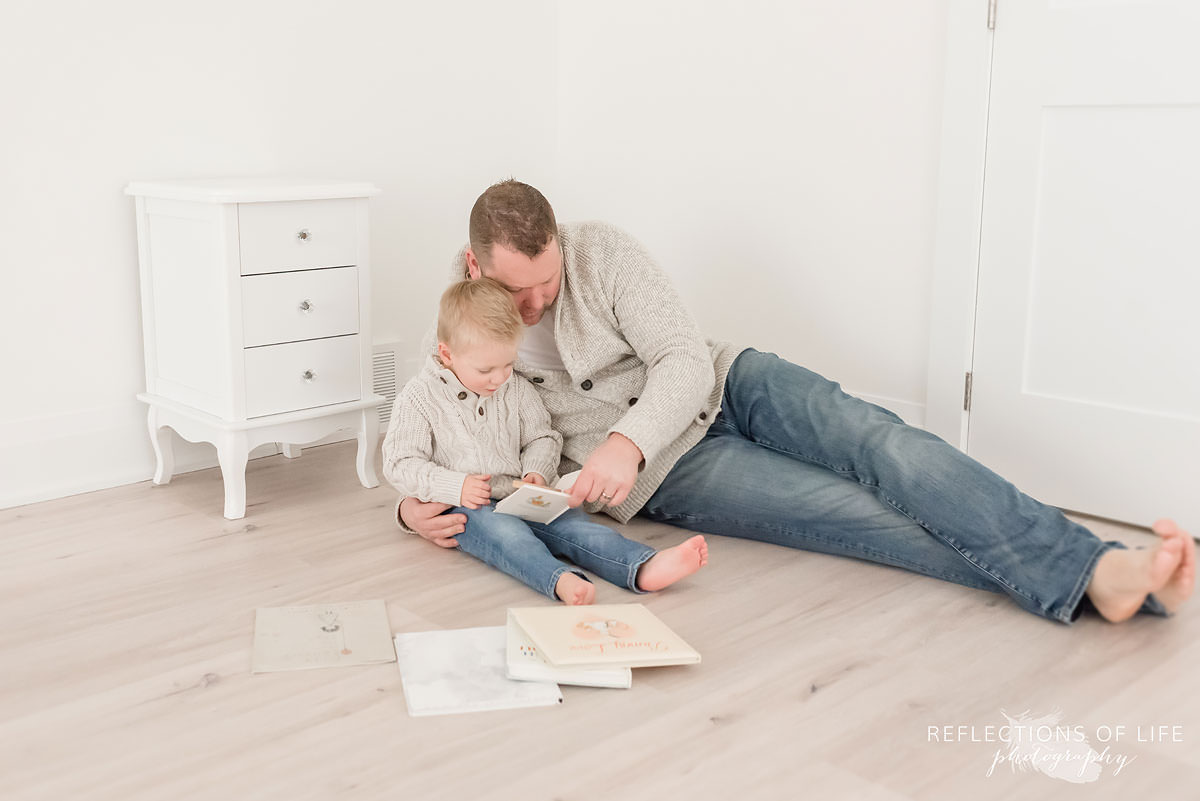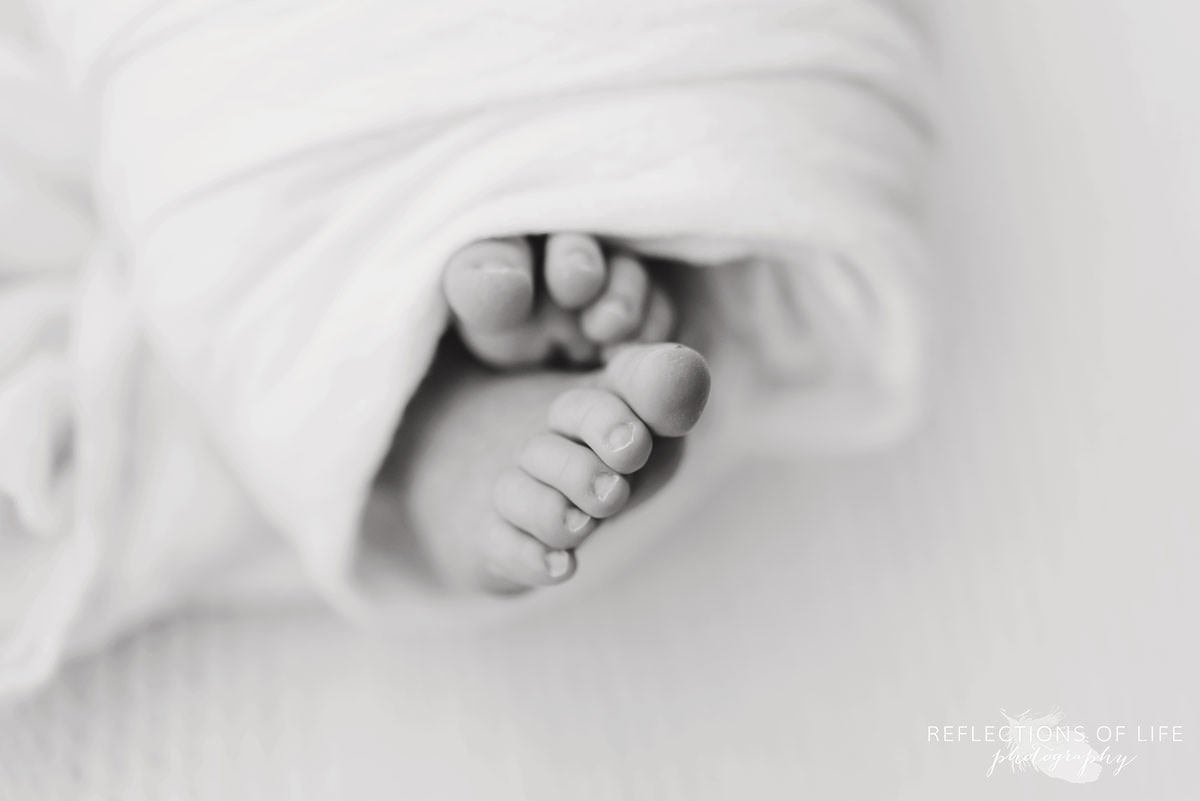 Their Newborn & Family Album Design
Stephanie's Testimonial
"Working with Karen is an absolute pleasure from start to finish; from booking the session to ordering photos, her calm spirit makes the entire experience relaxing and enjoyable. We recently completed our fifth photo session and we couldn't be happier with the experience and the final product! Her photos capture the intimacy of a family, making them truly timeless and priceless. We look forward to working with Karen again in the future and would not hesitate to recommend her to anyone looking for a newborn or family photographer!" -Stephanie Hopkins
Hi there, I'm Karen Byker from Grimsby, Ontario, Canada. I'm obsessed with newborn baby yawns, giggling kids and fancy flavoured tea.
I'm a mama of four that understands the overwhelm of the every day, but I've learned how to embrace and enjoy the beauty of it. I believe we should be able to enjoy this life we chose.
I've been a professional photographer since 2005. I've helped lots of mamas to slow down, pause and use photography as a reminder to take a breath.
I would love to talk with you about documenting the beauty through your chaos. Let's chat!