The Best Way To Document Your Maternity Story
I've learned a great deal about pregnancy over the years. How I looked and felt during the nine months I was expecting differed greatly from how I felt before and after. Many of you have shared with me your feelings about this time in your lives too. What remained true for both of us is that we all wanted to ensure we had a keepsake of this time in our lives. Here are some ways you can do that.
Some women begin documenting their pregnancy right away. The moment they find out that they're expecting.
Taking a picture of the positive pregnancy test is a great way to begin.

Pregnant mamas can document their own growing bump by photographing with their smartphones. Try taking the photos in the same room with the same lighting once a month.

Journal how you're feeling. One beauty of handwritten pages is that they are so authentic. I love pregnancy journals as a way to connect with the baby when they're older. You can scribble down notes in your handwriting that answer questions. Things like "what's your one wish for the baby?"or "what characteristics about your partner do you hope your baby has?" or "what's one thing you can't wait to show your baby about the world?"

I also love the idea of using a tape measure, marking it up as you move through the months of pregnancy.

Hire a professional photographer. Doing a maternity photo session allows you to really look and feel your best. Professionals use the most flattering angles, wardrobe and makeup. You can also incorporate your partner and other children to capture more of your family's story. A pro will always help you print your portraits. Tangible things you can hold in your hands are such wonderful memories to give your child.
To find the best photographer for you, talk to friends, family and search the internet. See which images you're most drawn to. Which photographers style do you really love? Most maternity mamas also choose to book a newborn session. Then your photos from both sessions will match nicely on the wall. Schedule an in-person meeting to make sure that you feel comfortable enough to work with them. 32-36 weeks is the best time to get professional photos done. Your baby bump will be big enough, you will still look and feel good about yourself. You'll also reduce the risk of the baby coming early and missing your shoot.
Once your baby arrives it will be a wonderful whirlwind of things to do. Take a few moments each month to reflect on how you're feeling, your hopes and dreams for your baby. Imagine how amazing you would feel if your mother passed on something like this to you. A journal, or an album of her pregnancy with you. Maybe create a wall in her nursery that combines maternity and newborn portraits. That would make you feel so very, incredibly, loved.
About This Maternity Session
This is Kersten and David. They came to my studio from Hamilton, Ontario.
I spoke to this gorgeous pregnant mama before her shoot to get to know her better. I always love to do that. She told me that maternity photos were so important to her because this was her first baby. She really wanted to remember these moments. She wanted photos that showed how she feels about her husband, David. She wanted images that will show their baby how loved she was before she was even born.
Their little girl, Ava just arrived and they're coming in for their newborn session this week. Of course, I can't wait to meet her and show you how incredibly beautiful she is. xo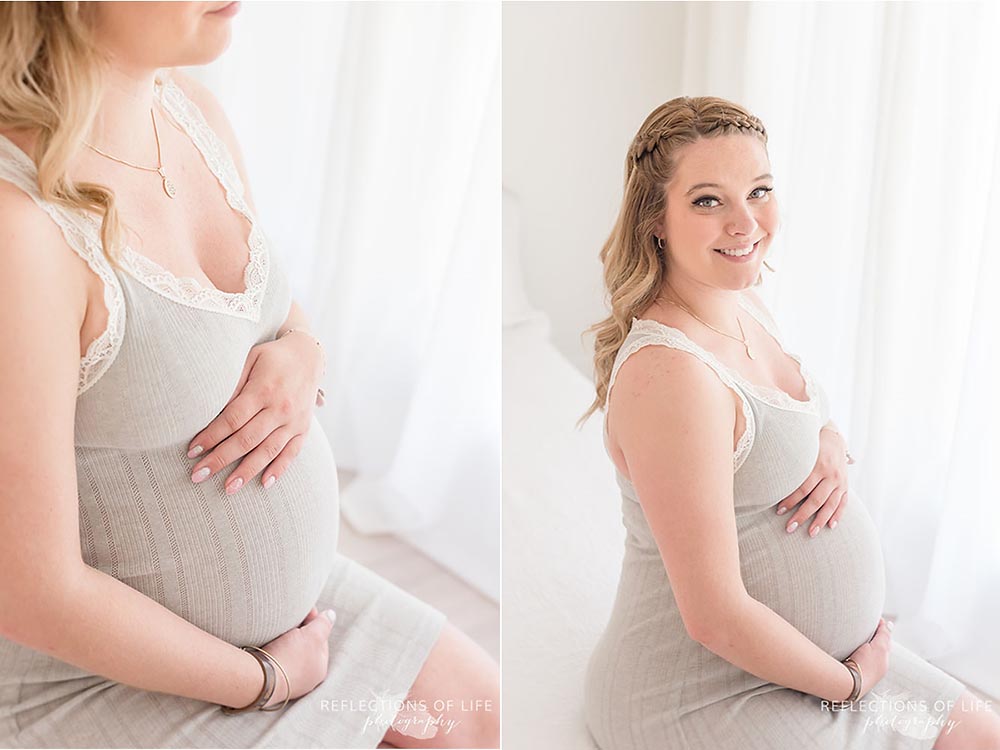 Hey there pregnant mama, I'm Karen Byker. I have a natural light studio in my hometown of Grimsby, Ontario, Canada. I photograph through all the stages motherhood - pregnancy, newborn, toddler and children well into their teen years.
I understand what it's like to be a busy mama, I've got four of my own, but I've learned how to embrace and enjoy the beauty of it.
I help mamas like you to create printed artwork so they can hold their memories in their hands. Let's chat about documenting the beauty through your chaos.