There's Beauty In The Unknown
We hold these unwritten lives within our stomachs. We feel them kick against our bladders. We see them grow in the swelling of our bellies. We find ourselves dreaming of them and of their futures.
But yet, there are so many unknowns.
We don't know the details of their faces, which we will one day memorize. We haven't heard the sound of their giggle or the way they learn to talk just so. We don't know yet whether they'll be spunky, sassy or reserved or calm. We don't know how they'll look while they sleep. How they'll play, smile, how they'll look at us, we just don't know.
And in all our dreaming and imagining and thinking and hoping, it is simply unknown.
Yet, time will go by, sometimes quicker than we'd ever hoped. We watch our littles ones arrive in the world in that alert and awake way that they only can. We'll watch them grow and become strong boys and incredible girls. We lean back and see them transform into men and women who are impacting the world.
In the unknown and in the knowing, is a gift.
Because these lives we get the honour of carrying and raising are nothing short of a treasure.
Client Testimonial
"When I came across ROL Photography online, what instantly attracted me was Karen's clean, crisp style. However, after our maternity session together I can say she is so much more than a photographer... she is a storyteller that creates and captures true family moments in her beautiful studio. Karen made me feel more beautiful than I have felt in a long time with her gorgeous wardrobe and her sweet compliments. She was very patient with our busy 3 year old son, and knew exactly how to interact with him in order to get the poses she wanted for us. It was a truly enjoyable and unforgettable experience. We are just in love with our album and photo! Our family and friends are very impressed by them too, and they have brought on many tears! The artwork we ordered for above our bed makes me smile every time I walk into our room!
You are AMAZING, by far the best photographer we have ever worked with, and I love the connection we formed with you." - Michelle Freel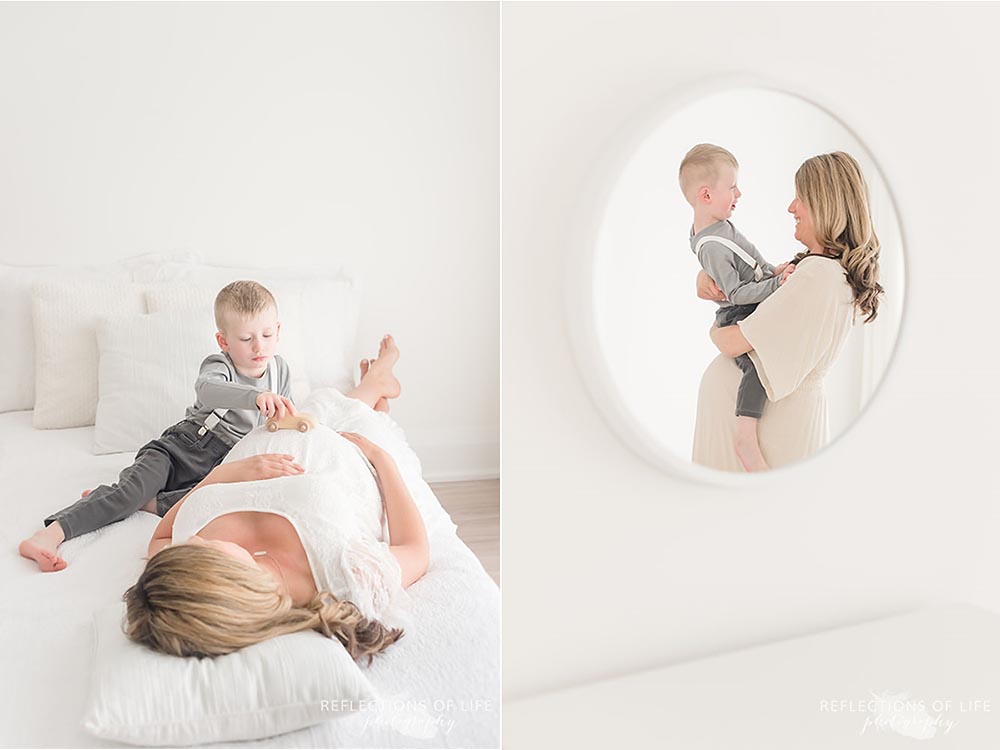 Their Maternity & Family Album
Hey there mama, I'm Karen Byker. I live in my hometown of Grimsby, Ontario, Canada. I photograph through all the stages motherhood - pregnancy, newborn, toddler and children well into their teen years.
I am a mother of four that understands what it's like to be busy, but I've learned how to embrace and enjoy the beauty of it.
I have helped hundreds of mamas to slow down and create artwork so they can remember these special times. Let's chat about documenting the beauty through your chaos.