This Is What Children Can Teach You
There's so much we can learn from children.

Kids can be our biggest teachers if we have enough humility just to say yes. As much as we know all that we know through life experience, there are almost some things it would be good to unlearn. There are some things we know, that it would almost be better if we didn't.

In all our information, in all our strategy, and in all our communication. To come back to the purest and simplest of things is not only refreshing, but I think it makes us come alive.

We can learn how to play again. We can learn how to let go of perfection, get messy and play. Whether we're painting with our fingers or figuring out something with our hands or dancing. No matter what it looks like, we can learn to play again.

We can learn how to be fearless. We can feel the drive to discover, to forget about the fear of what might happen next and the fear of who is watching.

We can learn how to find joy. I love how kids laugh really hard at things that are silly or don't make sense. How they get joy out of a colour or a song or dance. How they find joy in how something feels. The way that it makes them feel when someone they love comes right to them for a hug.

We can learn how love without reservation like kids do. Somewhere along the line we start loving almost as if we are held back a bit. Maybe because we are afraid of what happens when we give everything. How to love with all of our hearts, how to love unashamedly, how to love boldly, how to love completely.

We can learn how to be alive, to be full of wonder, to be here. This is what kids can teach us.
About This Family Session
Leah is a firecracker. She's full of energy, life and boy, is she smart! During her session I learned about her love for running and playing. She had fun, fearlessly exploring the field, putting little flowers and other plants into a glass jar. She enjoyed every moment, and you'll see her lively expressions and mannerisms all throughout her images here. She's got a sweet and curious personality. I'm excited to see how she reacts when this baby brother or sister arrives!

This is Jennifer and Darryl's fourth session with me. View Leah's adorable baby session, newborn session and maternity session.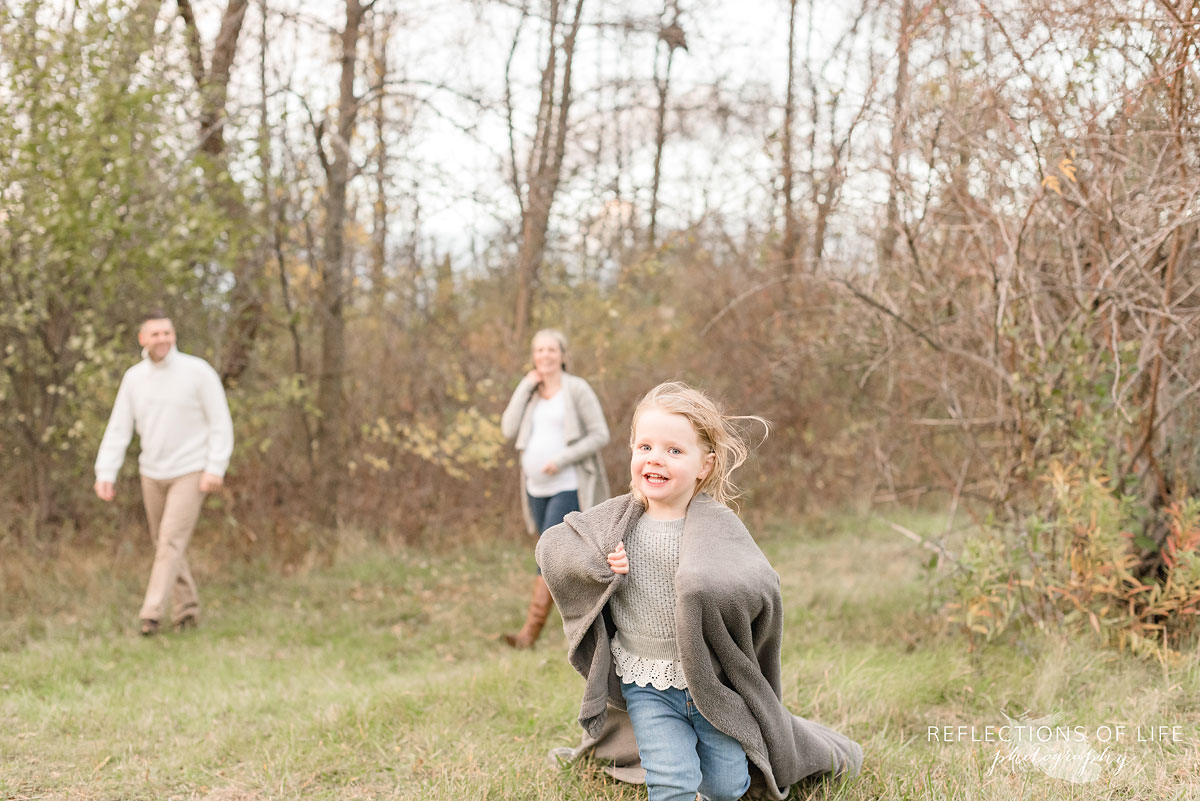 Their Family Album Design
Hi there, I'm Karen Byker from Grimsby, Ontario, Canada. I am obsessed with newborn babies, giddy kids and fancy flavoured tea.
I'm a mother of four wonderful children that understands the overwhelm of the every day, but I've learned how to embrace and enjoy the beauty of it. I believe we should be able to enjoy this life we chose.
I have been a professional photographer since the year 2005. I've helped hundreds of mamas to slow down, pause and use photography as a reminder to take a breath.
I would just love to talk with you about documenting the beauty through your chaos. Let's chat!