To The Mama Who's Afraid She'll Never Measure Up
What To Do When You're Afraid of Doing Everything Wrong
This is my letter to the woman who is afraid that she'll never measure up and that all she'll ever make are mistakes. This is my letter to the mamas who are nervous every time they hold, feed, and soothe their babies. Concerned that there is something that their baby is missing. This is my letter to the ones who feel like they are without. The ones who kiss their children in the morning with the whispers of, "am I loving you well enough, baby?"
See, you think you're the only one. You think you're the only one who feels like she is doing everything wrong. The only one that worries that when you come back to check on the baby, that something happened to her in her sleep. You think you are the only one who wrestles with whether you're loving your children well or right.
But what you don't know is that you are in every woman. It's this moment and this exchange that comes up once for some and often for others. This moment of squirming self-doubt, do-I-have-what-it-takes, and of fear that somehow that has settled in you. It's this moment where you have come face to face with your ability to give. With your ability to love, and you're shell-shocked to find out what you actually think of yourself.
Mama, know that this beautiful newborn baby was given to you on purpose. You have something inside of you that she is going to need. You have something inside of you that this little boy is going to need to hear and know and feel. And you won't be perfect and the days won't always be easy, but it was never about your perfect. It was always about your heart. Your big, unashamed mama heart.
And in those moments where you don't know what to do or you feel like you don't measure up, breathe. Breathe extravagant love in and breathe it out. Love always has been and always will be the answer, the pillar and the very foundation of being the mom that you are.
You're going to be okay. You're going to be amazing. You're going to be magnificent. If it doesn't look like everyone else, don't worry. If it doesn't feel glamorous, it is okay. If it doesn't seem like a Golden Globe earning performance, it is probably a good thing.
Your beautiful soul, divinely created body, your stunning intuition are here to stay. You have everything you need to be amazing. Now you just are.
About This Maternity Session
This is Candice and Dimas' first pregnancy, They wanted to document the love and excitement they have for their baby. Candice contacted me because she loves photos with natural looking positions and expressions. She was following me on social media for a long time and as soon as she found out she was expecting, she booked her session right away.
They met in 2007 when they were just 19 and 20. They got married on a beach in Punta Cana in 2013. They wanted a family from day one and are so excited to welcome this baby into the world very soon. Stay tuned for their newborn session as their baby is due this March!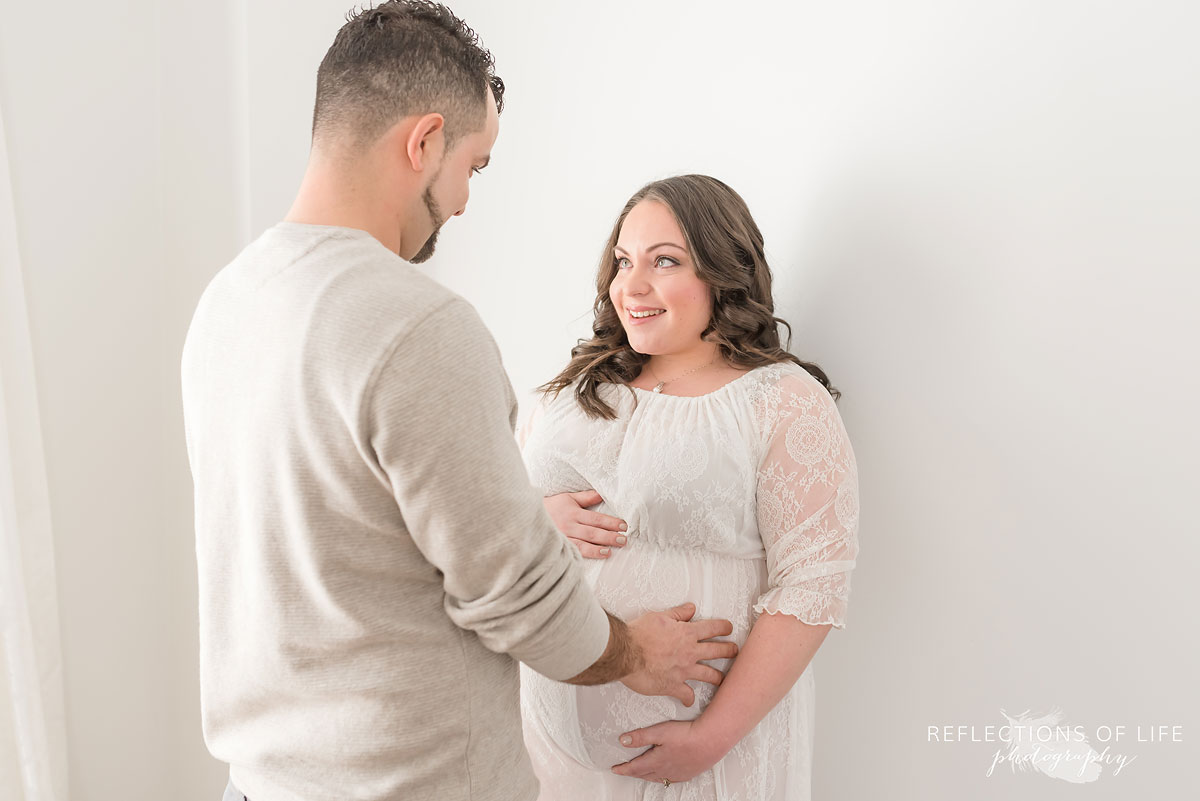 Their Maternity Album Design
Client Testimonial
"Hi Karen, thanks so much again for the photos. Dimas loves them too! They all turned out great. And I can't wait to see you again for the newborn session!!" - Candice Pacheco