Why Are Older Brothers & Sisters So Important?
Why Are Older Brothers & Sisters So Important?
Being a big brother or sister isn't just about age or doing things in a certain order or at certain times. Being a sibling is bigger than numbers and bigger than dates. It's a bond that starts from the very first breath. It is seeing who can run faster, jump higher, talk louder. It is making one another laugh so hard that one falls right over. It is building and exploring and jumping in the mud. It is those talks that cut through the heart. It is the calling up and out of the superhero in one another. It is the stories and the moments and the memories.
Having an older sibling can be everything to little children who grow up to become adults.
Whether it is a hug, a punch in the arm, a secret handshake or a rumble-tumble. The beauty of this love and this bond is that no matter what happens in this life, they have one another.
They've found home in another person. And isn't that one of the sweetest gifts on the planet? To know that greatness isn't just found on platforms and stages, but greatness is found in one another. Greatness is found when we have eyes to see each other as superheroes, just like these siblings do.
About This Newborn & Family Studio Session
This is my fifth newborn session with Alicia and Travis, as I've photographed every one of their five adorable kids. They've moved several hours away now but still made sure to be in town so I could work my magic in a newborn session for them one more time.
Welcome the the world, Remington! This little man is already so loved. He slept through his entire session and is so calm and content. He's the perfect addition to this sweet family, now of seven.
See that little girl, Paisley with her hands in her mouth? You just have to see her newborn and maternity sessions too. When Carter, Jordyn and Wyatt were asked how they felt about having another baby sibling, they didn't ask for a baby brother or sister, they wanted another Paisley. So adorable. xo
Try a super soft swaddle for your newborn!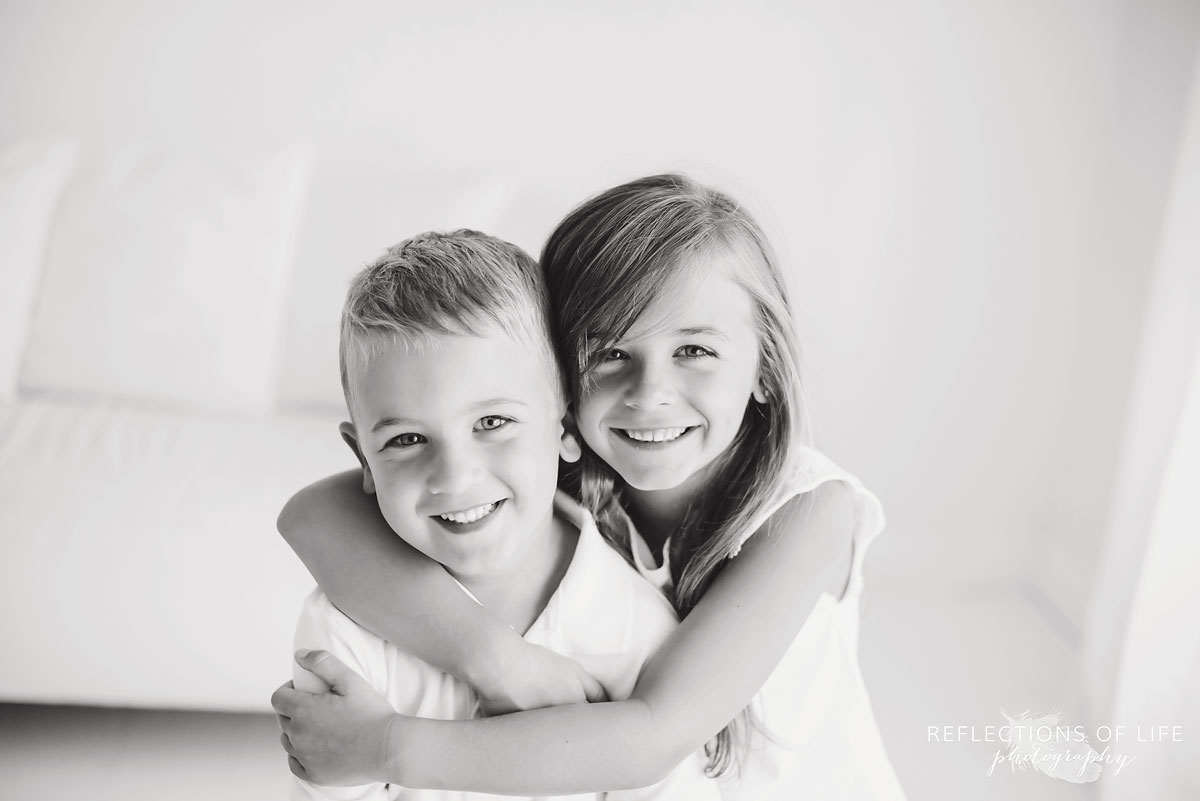 Alicia's Testimonial
"We were first introduced to Karen and Reflections of Life Photography in 2010 when we had our first child. We had no idea what to expect, but leading up to the session Karen made sure we were fully prepared and had a good idea of what would be happening during our session. We truly admired her patience and gentleness with our baby and felt very welcomed.
Over the past 8 years, Reflections of Life has photographed our 5 children's newborn photos as well as a family/maternity session. In fact, we love Karen's work SO much that we made the 4 hour drive from our new home just so she could photograph the final addition to our large family!
Karen has always been very accommodating. We have always felt relaxed when in her presence, which is a breath of fresh air when wanting so badly to create the perfect picture!
During this most recent session, Karen somehow still managed to make us feel the same sense of calmness through the chaos of staging 5 children under 8 years old as we felt at our very first session with one newborn baby who slept the entire time! She truly is a miracle worker!
Our home is full of Karen's amazing work and we would never hesitate to recommend her services to others! You will not be disappointed!" - Alicia Braun
Hi there, I'm Karen Byker from Grimsby, Ontario, Canada. I'm in love with newborn baby yawns, giggling kids and fancy flavoured tea.
I'm a mother of four wild and wonderful kids, and I understand the overwhelm of the every day, but I've learned how to embrace and enjoy the beauty of it. I believe we should be able to enjoy this life we chose.
I've been a professional photographer since 2005. Through the art of photography, I've helped hundreds of mamas to slow down, pause and take a breath.
I'd love to talk with you about documenting the beauty through your chaos. Let's chat!